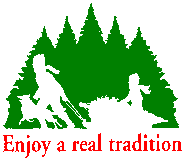 Rinas Christmas Trees
519 621-1438
Remember to refresh your browser to get the latest news from the farm.
---
---
We are closed for the 2022 Season.
Thank you all for your patronage and have a wonderful Holiday Season.
Movie Shoot location and base camp.
---
A GOOD TIP: You can delay putting up your tree by storing it in an unheated shed or garage (keep it out of the wind or sun). You do not need to store the tree in water at this point. When its time to put up the tree, cut off a small slice (1 cm) of the stem before putting the tree in the stand with water.
---
Dogs may visit the farm, but they must be kept controlled on a leash.
---
---
Fir and Spruce and White Pine ....$78.00 HST included
Scotch Pine ....$58.00 HST included
Trees can be shaken out and netting is

$2.00

.
Cash only please
---
We have the tapered drill required for anyone that needs to drill their tree stump to fit a tapered spike tree stand. We do not have any tree stands for sale.
The farm is located 1km north of the village of Rockton on the 6th Concession.
Our What3Words address is
///
undertaking.lawfully.dependable
---
Map from Cambridge

Map from Hamilton, Dundas and Burlington

Map from Mississauga and Milton

Map from Brantford

Below are some suggested GPS entries
---
TOMTOM AND MAGELLAN GPS ENTRIES
CITY.......Rockton ON STREET......... Sixth Concession W HOUSE NUMBER.........1762
GARMIN GPS ENTRIES
CITY.....Hamilton Ontario HOUSE NUMBER..........1762 STREET.........Concession 6 W
---
GPS coordinates N43°19'394 W080°08'121
Google Maps Coordinates 43.325223, -80.135241
We can be reached at 519 621-1438
or Email : erinas@rinaschristmastrees.ca